We hope you enjoy looking back on the photos from the SSA 101 Week 2019!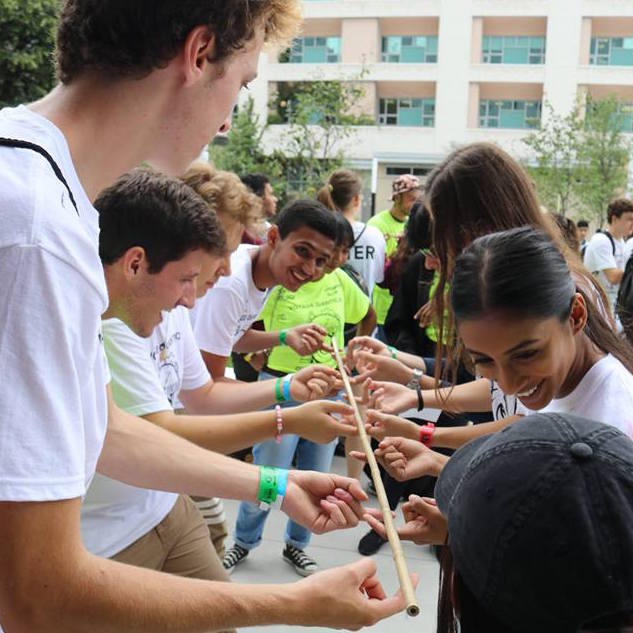 101 Week F.A.Q.
I keep seeing information about 101 Week from the University of Ottawa, the university of ottawa student union (uosu), and from you guys. Is it all the same thing?
101 Week is jointly organized by the University (the administration and other staff of uOttawa), the UOSU (the student union, which represents ALL students), and by the SSA (Science Students' Association – us)! The University hosts general events throughout the week for all students. The UOSU hosts their own 101 Week, but we take part in their large-scale events. We (the Science Students' Association, or SSA), like every student association, put on our own 101 Week specific to Science students. We have a full week of activities planned that are geared towards incoming science students to show them a good time, introduce them to their new surroundings, and make them comfortable here at the University. We know what it's like, we were all first years once!
Summary: SSA 101 Week = UOSU 101 Week + Science student-specific events

So both the UOSU and the SSA sell 101 Week kits. Do I have to buy both?!
No need. The purchase of the SSA 101 Week kit encompasses all main events held by the UOSU.
Why do I have to purchase a 101 Week kit?
Buying a kit helps to fund the 101 Week events you will be participating in! You will receive a 101 Week shirt, a bracelet to get you into 101 Week events, along with some cool Science merchandise and you will be designated a "101er" (A.K.A. an incoming student). Kits are limited!
$100/$132 seems like a lot of money. Is it really worth it?
If you asked any 2nd, 3rd, or 4th year student, they would probably tell you that a 101 Week kit was their best purchase in university. Not only do our kits contain awesome merch, coupons, information, and useful goodies that can help you during the school year, but they also get you access to some of the best events of the year! The experiences you have and the people you meet during the week will make it more than worth it. The deluxe kit option also includes a lab coat and goggles, which are both mandatory for chemistry and biology labs that you will be performing in your first year (pro tip: they are cheaper than other places on campus).
Why are some items offered as an add-on?
The add-on items are optional purchases. For Calypso, if you purchase the add-on, you will be enjoying Monday, September 2nd, 9am-4pm at Ottawa's Largest Waterpark with 101ers from many different faculties!
What do I do if I do not get the add-ons?
If you do not get the Calypso add-on, you can still enjoy events on campus!
Alright, I'm sold. Where and when can I buy my kit?
The best way to purchase a kit is online through the SSA website (www.ssa-aes.com) ; sales opened on August 1st 2019. Kit pick up begins at the start of 101 Week, in front of the Biosciences Complex on Saturday, August 31st, and Sunday, September 1st. If you're not sure where it is, check any of the map stations on campus! We recommend that you pre-order your kit online, because they may sell out before then! Once you have purchased and picked up your kit, you're fully registered!
Do I need to bring anything?
Bring a piece of photo ID with your date of birth (e.g. driver's license, health card, passport, etc.); you will be given a bracelet indicating your age. Driver's License is HIGHLY preferred.
But my birthday is during 101 Week! Will I get another bracelet showing that I'm 18?
Yes! As long as you can prove that it's your birthday, we will exchange them for you.
I'm not arriving until after kit sales end on Sunday. Can I still buy a kit and participate?
For sure! Just get in touch with Eleni Sokou (social@ssa-aes.com) and let her know! We'll keep yours aside for you.
I'm participating in the Science Prep Workshop, and I need a labcoat and goggles for it, but I've already purchased them with my kit! What do I do?
There are times built into the prep workshop schedule to pick up your glasses & labcoat!
Are there any events during the week that are mandatory?
The Faculty of Science is hosting a mandatory information session on Tuesday, September 3rd for all 1st year students. The session covers the university's academic policies, important information, services available to students, and life on campus. You must attend either of the afternoon sessions. These sessions are very useful, and provide you with all kinds of helpful information about the faculty and your program. You should register on the following website: https://welcome.uottawa.ca/info-sessions/sciences
Some of your events are listed as 18+, but I'm only 17. What do I do during these times?
For every event that is 18+, we have a parallel event for all ages. These events include anything from festivals to a pool night!
I'm 18, but I'm not really into the whole bar night/cabin party thing. Can I come to the alternate event too?
Absolutely! You are free to attend whatever event you'd prefer.
Who is in charge of these events?
Science's 101 Week is entirely organized by the 16 executives, and 4 managers of the SSA (dark grey t-shirts, they will register you at the beginning of the week). 140 other volunteers are chosen to be 101 Week Guides (neon yellow shirts, grey bandanas), and 101 Week Head Guides (neon yellow shirts, purple bandanas). You'll mostly be interacting with guides and your assigned head guides.
What do guides do during the week?
The guides and executives will be the ones taking you from place to place, helping you meet other people, showing you around campus and the city, and looking after your safety. They will answer your questions, walk you home after late-night events, and make sure you have a good time throughout the week.
How trustworthy are these guides/executives?
Very! Each executive has been elected to their position, and every guide and head guide has been selected through a rigorous process. Many guides (and many executives) are First Aid and CPR certified, and everyone is bound to a strict code of conduct and ethics during the week to ensure a safe, and accommodating environment for all students!
I have a disability that might make it difficult for me to participate in some events. What can I do?
We always try to create an environment where everyone can participate. All of our events have been made as accessible as possible – we coordinate with the university's Centre for Students with Disabilities when planning each event. Feel free to contact Eleni Sokou (social@ssa-aes.com) before the week starts if you have any specific concerns. We'll do absolutely everything possible to make it work for you!
I've lived in Ottawa all my life and have already visited campus. Is there any point in me coming to 101 Week?
You should especially do 101 Week if you're from Ottawa. Students who live at home generally don't integrate as much with the university community as those who are from out of town. You should participate so that you can meet other people in your program, learn some useful tips about university life, and if nothing else, just have a great time before classes start!
Do classes take place during any of your events?
Classes being on the Wednesday of 101 Week. Because everyone has different schedules, we try to minimize major events during class times. For events on campus, feel free to come and go as you need to. If an event is taking place off campus, and you can't come until after your class, speak to an executive and we'll try to arrange transportation for you.
One of my friends is a 1st year student in another faculty. Will I get to see him/her at all during the week?
Yes, there are many events in which all 1st year students participate, so there will be lots of opportunity to mingle with people from outside the Faculty of Science.
What else does the SSA do besides organize 101 Week?
The SSA is the student governing body specifically for Science students. The SSA organizes many events during the school year that are both academic and social. We represent all science students in meetings with the Faculty of Science and the university administration. In addition, we have a number of services that make student life as seamless and enjoyable as possible. Come visit us at our office during the year, we're in Marion 023, just off the common room!
Organizing these sorts of things sounds like a lot of fun. How can I get involved with the SSA?
There are lots of ways to get involved in student life on campus, and it's important to do so to make the most of your time here. The SSA holds elections for its General Council in September – 6 seats are available for 1st year students! Alternatively, you can join any of the clubs in the Faculty of Science or across campus, try out for varsity or intra-mural sports, or volunteer for any of the thousands of groups and services at university. Most guides and execs will know about that kind of thing, and many of them are involved in all kinds of groups across campus. We're happy to tell you all about it!
do you have a schedule?
Yes! It is below.
Where should I go if I need more information about anything?
If this guide still hasn't answered your questions, send an email to Eleni Sokou, the main 101 Week organizer and VP Social of the SSA (social@ssa-aes.com). For questions regarding 101 Week kit online registrations, contact Sophie Gregoire-Mitha, our VP Internal (internal@ssa-aes.com).